While it is true that we all in in southern California and for some people that still conjures up things like Hollywood and "La La Land", it is also true that we're not living in Mayberry anymore, either. Our world in Los Angeles and Ventura Counties has become incredibly complex, and it will continue to become more and more complex in the future. While that makes our cars, homes, and other parts of our busy lives smarter and better, it also creates opportunities for unscrupulous individuals to take advantage of us and our family. As a result, more and more people are turning to private professionals such as Blue Knight Global Services for their security services in Calabasas, Malibu, Los Angeles, Oxnard and Woodland Hills?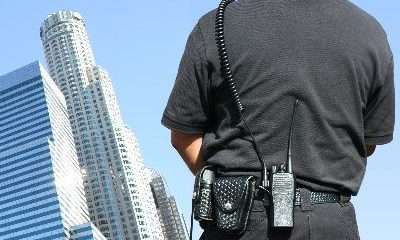 Why You Might Need Security Services in Calabasas
As the corporate headquarters of Harbor Freight Tools, The Cheesecake Factory and DTS Inc., Calabasas is proud of our heritage and our Pumpkin Festival, and many even say the name Calabasas means "pumpkin". Calabasas is also an economically comfortable neighborhood with strong family values. We want to protect our assets, protect our way of life and maintain our standard of living. In other the last thing we want is to experience is "Smashing Pumpkins".
Calabasas is also home to high-end shopping center. The Commons at Calabasas. Retail, as many already know, is an industry that is always in need of security services, whether in Calabasas or anywhere. From protecting employees and reducing shrinkage to reducing vandalism and securing your retail property after hours, Blue Knight Global Services can provide all the security services necessary to protect your property and help you enjoy a restful night's sleep.
Have Security Services Become a Necessity in Malibu?
As a beachfront community, Malibu includes 5,267 households and has a population of about 13,000 people. And with the median resale price of a home in Malibu being $3,650,000 as of 2017, there is a lot of beautiful property and people that deserver protection.
Blue Knight Global Services has decades of providing security services in Malibu and throughout southern California. That means we have the expertise to protect your investment from damage in good times and bad. We have the skills and ability to protect your Malibu home both when you are in town or away. We can keep a watchful eye on your property if you are away on business or have been evacuated due to natural disasters such as wildfires, mudslides, storms, or earthquakes.
At Blue Knight Global Services, we firmly believe that the short answer to the question of "have Security Services Become a Necessity in Malibu?" is a resounding YES.
Can You Live Without Security Services in Los Angeles?
As one of the largest and most important cities in the Unites States, Los Angeles is home to countless, unimaginable opportunities. The flipside to that coin, sadly, is that a result of Los Angeles being so successful and influential is that the city is also home to real-life bad guys, danger, and sadly, too much crime. As a result, quality security services in Los Angeles such as those offered by Blue Knight Global Services are in high demand.
Whether you need someone to watch over your rental property while it is empty and being fumigated, or require protection as you make your way to work or the airport, the security service professionals at Blue Knight Global Services have what it takes to provide peace of mind.
As a certified 100% minority/woman owned business, we have experience providing security services in Los Angeles for high-profile individuals, major corporations, sports franchises, and government agencies. In short, we are serious about your security services. Our founder, Mr. Hackie, is a decorated retired police officer who served Los Angeles County who has countless experience as a security services provider in Los Angeles.
We Also Offer Security Services in Oxnard and Woodland Hills
Naturally Oxnard and Woodland Hillshave their own unique identities and challenges when it comes to security services. In car-centric southern California though, and especially as a security services company founded by a decorated retired police officer who served Los Angeles County, Blue Knight Global Services understands your security service needs. We've been there, protected that.
We understand that Woodland Hills is a community of about 60,000 people and is less densely populated than other areas of Los Angeles. Woodland Hills also has a higher population of veterans than many other areas and at Blue Knight Global Services we certainly understand your unique security service needs.

Oxnard of course is a beach community, but is unique and offers security service needs that are different than Malibu. We understand that too, and we also understand modern technology, security services and protection techniques. That is to say, when you trust Blue Knight Global Services to protect your person or property, you can rest assured that you are hiring security service professionals with decades of experience.