Trusted Security Services Personal & Corporate
Established in 1999, Blue Knight Global Services is a premier security firm in Los Angeles, California, providing professional personal security services and corporate security. Our licensed staff are highly experienced with extensive backgrounds as police officers, military veterans, and other law enforcement agencies, including the State Department. We have the knowledge and skill to protect your personal property or investments from damages.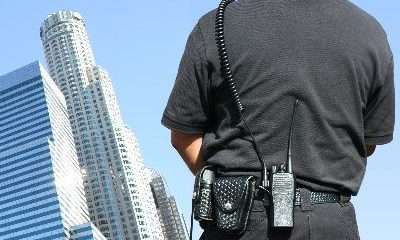 We can keep a watchful eye on your property if you are away on business or have been evacuated due to natural disasters such as wildfires, mudslides, storms, or earthquakes.
Personal Security to Give You Peace of Mind
As one of the largest and most important cities in the Unites States, Los Angeles is home to countless, unimaginable opportunities. The flipside to that coin, sadly, is that a result of Los Angeles being so successful and influential is that the city is also home to real-life bad guys, danger, and sadly, too much crime.As a result, quality security services in Los Angeles such as those offered by Blue Knight Global Services are in high demand.</p> <p>Whether you need someone to watch over your rental property while it is empty and being fumigated, or require protection as you make your way to work or the airport, the security service professionals at Blue Knight Global Services have what it takes to provide peace of mind.
Corporate Security for Loss Prevention
Retail, as many already know, is an industry that is always in need of security services, whether in Los Angeles or anywhere. From protecting employees and reducing shrinkage to reducing vandalism and securing your retail property after hours, Blue Knight Global Services can provide all the security services necessary to protect your property and help you enjoy a restful night's sleep.